As indie hackers, many of us spend a lot of time at our computers. Some folks are meticulous about how they set up their workspaces. Others throw a laptop on a box and get to work.
I thought it'd be fun to see how indie hackers are setting up their workspaces, so I asked around. 👇
Command-center setups
Channing Allen of Indie Hackers:

In case it's not obvious, I like screens and multi-tasking.
The station on the left is a standing workstation. I try not to go much longer than an hour sitting.
Apple has a feature that links nearby displays, so I can use either mouse-and-keyboard set to interact with most of the screens you see.
You can see the podcast equipment on the left station from back when we did the podcast, RIP.
Notepad on the left is a reMarkable e-ink device, which I highly recommend for people who like taking notes longhand.
And the phone beneath the central display is a Google Pixel Fold, which I also recommend for people who like to use their phones for productivity.
Brett Williams of DesignJoy: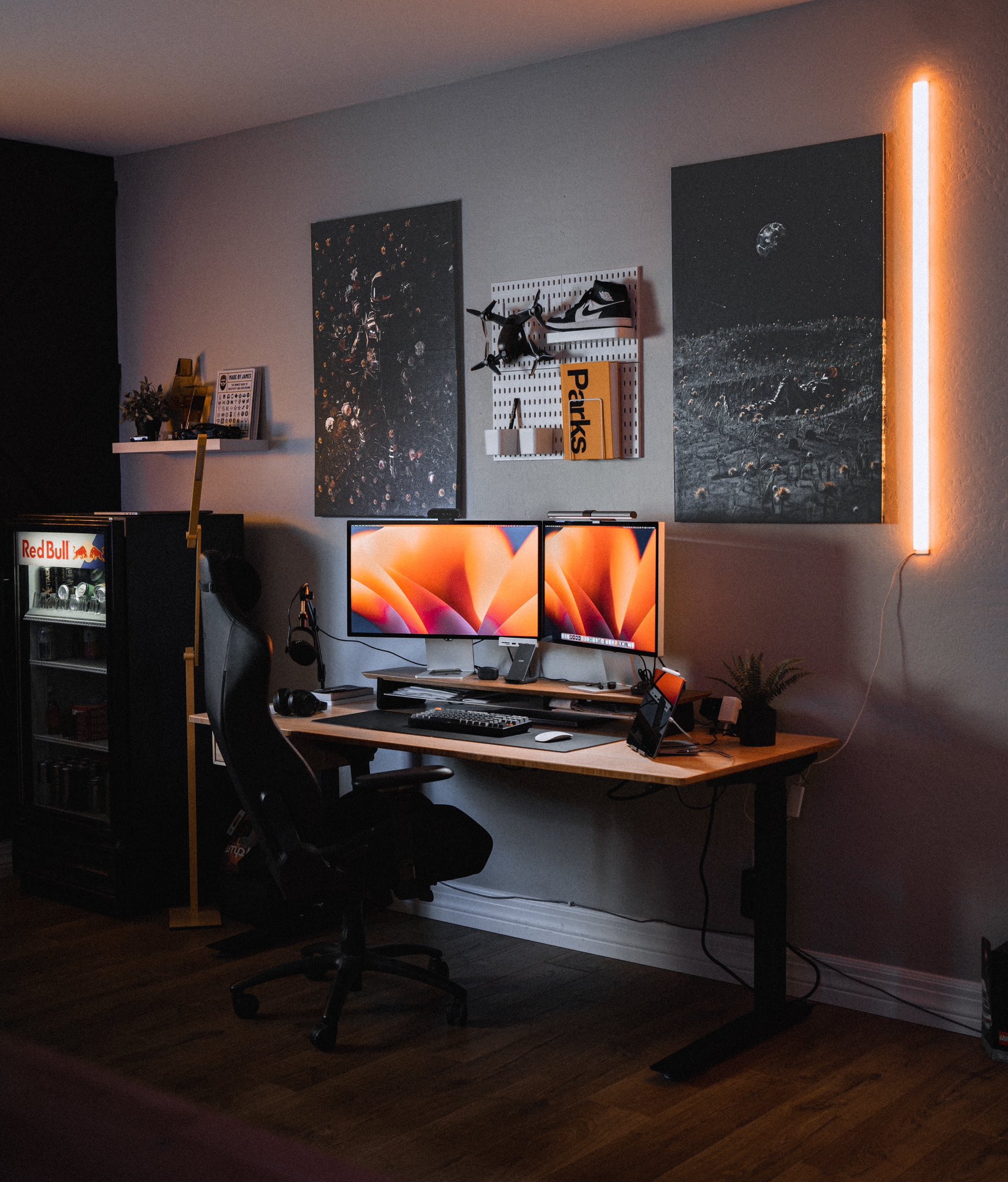 This is where all the magic happens. (Source)
Kyle Nolan of ProjectionLab:

Here's a candid of what my setup looks like on a day-to-day basis. Despite the lackluster cable management, I find it effective.
I spend about half my time standing, multiple monitors help streamline tasks and reduce cognitive load, the laptop stand is nice for keeping all screens at eye level, and I put the exercise bike to consistent use.
Kevon Cheung of BIP Mastery:

My 2nd daughter arrived earlier this year so I had to find a separate space to do my deep work. I took the chance to set up something more professional to do my courses, YouTube videos, and live calls!
The broccoli neon light usually catches people by surprise! Ever since I started using a teleprompter, I cannot live without it. It helps me stay engaged during live calls and makes it easy for me to record videos without memorizing all my lines! Thank goodness.
Steven Goh of Proxycurl:

I have 2x external displays driven by my Macbook Air.
Ergonomics is a big part of my workspace with my self-built ergo mechanical Taira keyboard. The magic trackpad is also tented almost vertically with a tablet stand from Ikea. This setup minimizes shoulder/hand movement and lets me work for long periods of time without being in pain.
I also have a dedicated microphone because video calls are a big part of our company. Most of our customers and our staff are outside of Singapore where I am based, and a dedicated microphone is a gamechanger in terms of remote work and selling. This is especially so since I do not have an American accent.
I like my music so I have a proper 3.1 sound system that accompanies me at work everyday.
All in all, this is my setup and no other setup is like mine. Haha :)
Brad Adkins of Designfly, Roasti, and Bradkins Beats:

This is my ergonomic hybrid workstation for design and music production. It's designed to be both ergonomic and functional. Installing caster wheels on the desk allows me to move it anywhere in the room, unlocking endless setup variations. Creativity has no bounds in this workspace.
Ryan Gilbert of Workspaces and Loops:

As the publisher of Workspaces, you'd probably expect my own space to be a little bit less... chaotic? Truthfully, I'm always working in different places depending on the type of work I'm doing. This specific setup is in our basement which leads to limited natural light. When I need a bit of a mood-boost I'll take the laptop upstairs to the kitchen table.
When moving upstairs, the main items I miss from this stationary setup are the Keychron mechanical keyboard and the Grovemade wool desk mat.
We're moving soon! Hope to really ramp up the workspace then ;)
Drew Thomas of bildr:

My office is a 7' x 8' room built inside my detached, two car garage. It's a unique setup, but I've grown to like it a lot.
My desk isn't always this clean, but I really try to keep it this clean. The normal clutter of everyday work is everywhere around me… just out of my view and out of my camera's view.
My whole setup is around calls and recording, basically. I swing the Yeti mic in to talk, and the Elgato Key Light (Air) is great for lighting me and the room.
My favorite thing on my desk is the 3D-printed phone stand I designed and printed 8 or 9 years ago. The phones have increased in size, but it still works and I use it every day!
Phil of 4 day week: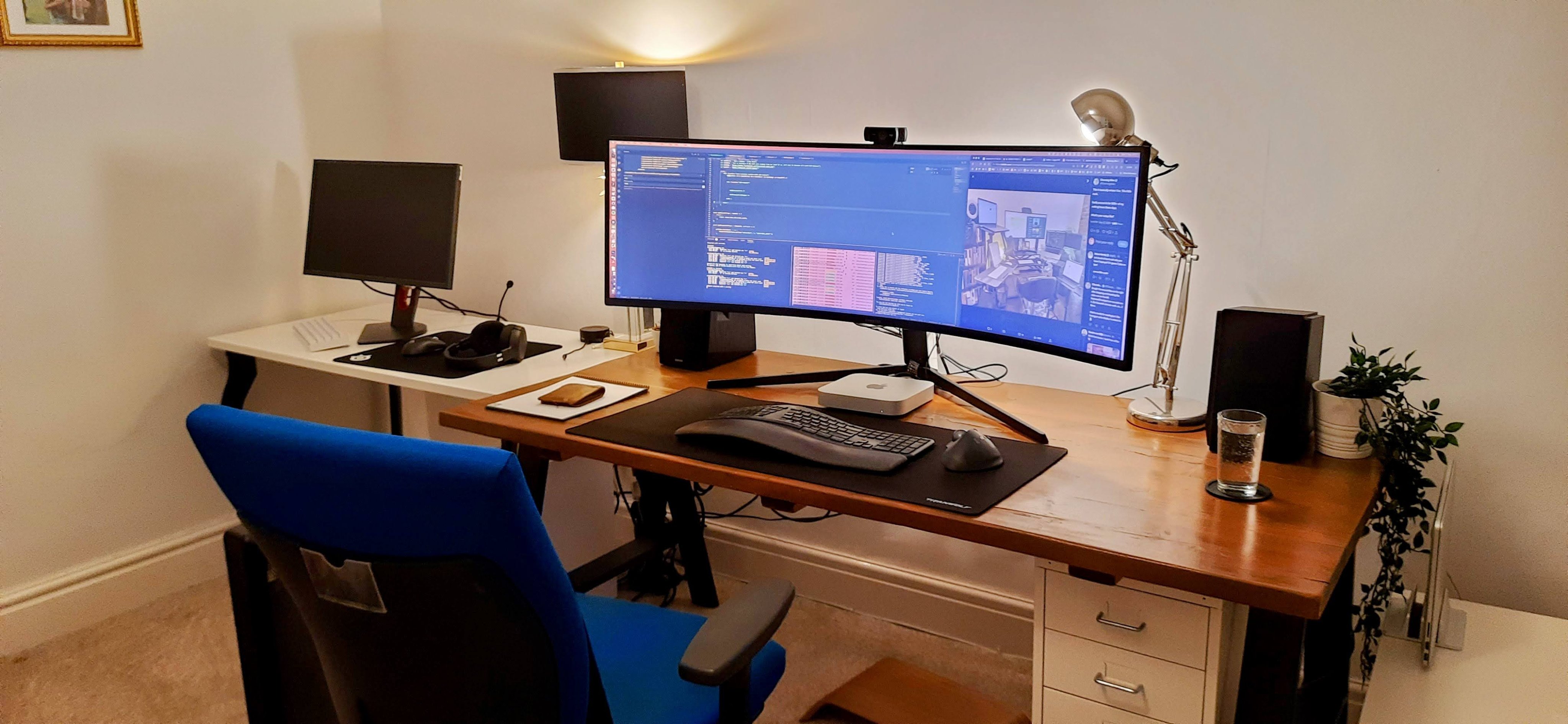 Gaming/working.
Although, tidiest it's been in a while 😅 (Source)
James Whelton of conjure: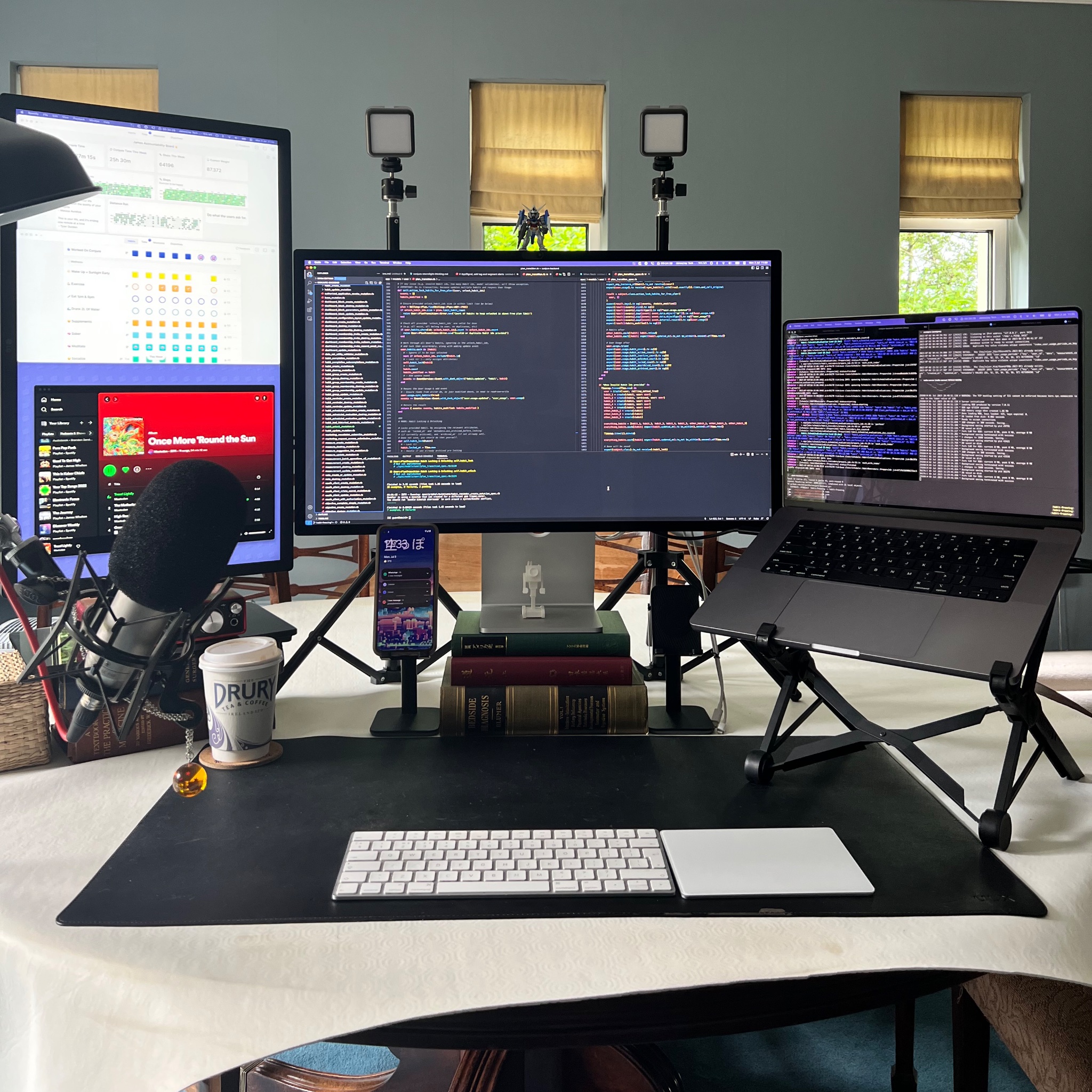 When not being nomadic, I have a similar lust for screen real-estate!
When being nomadic, I alternate between bringing a secondary monitor in a suitcase or using an iPad as a secondary screen. (Source)
Xandra van Wijk of London Tech Mum: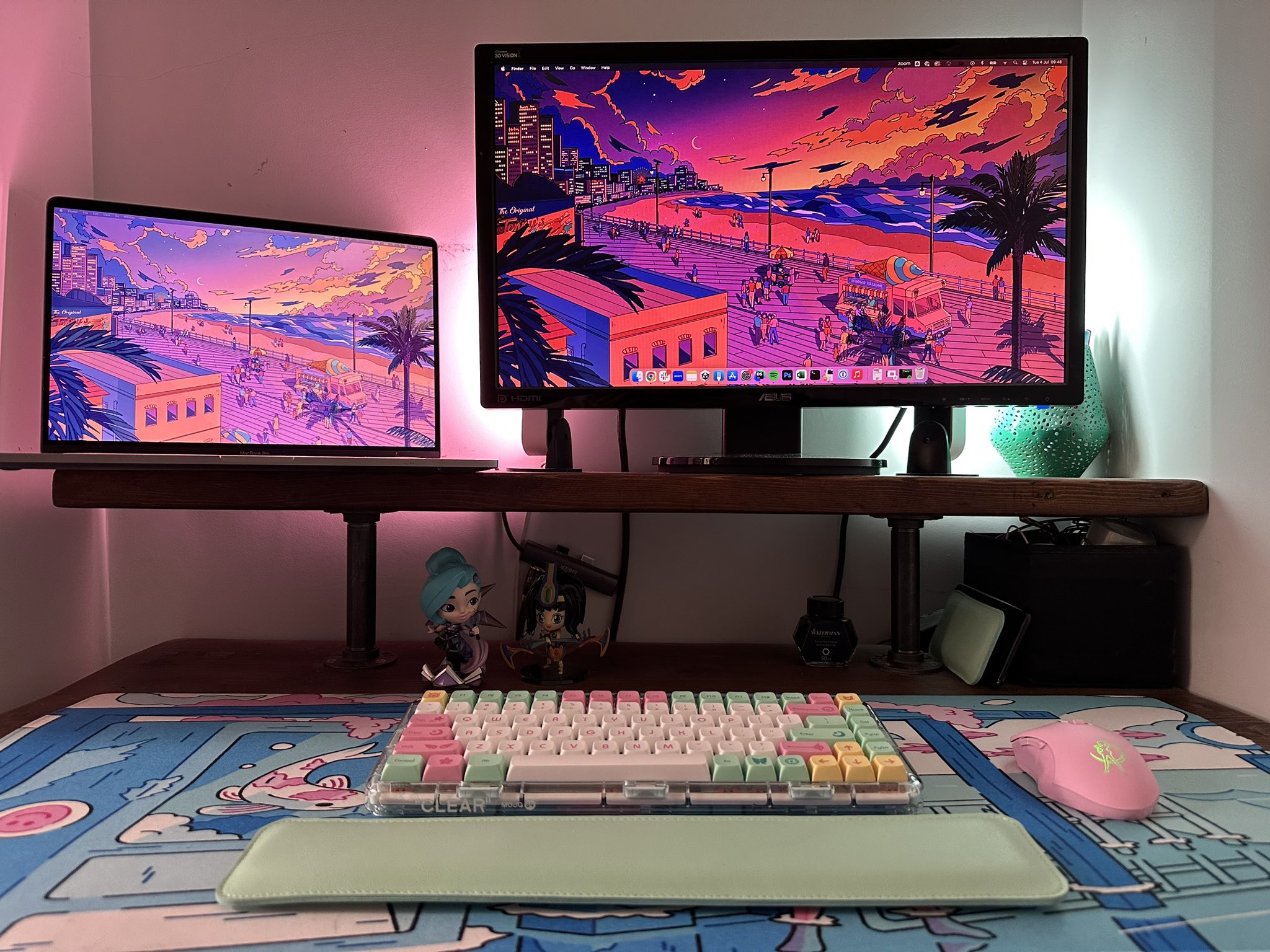 Work from home setup 💖 (Source)
Sooraj Chandran: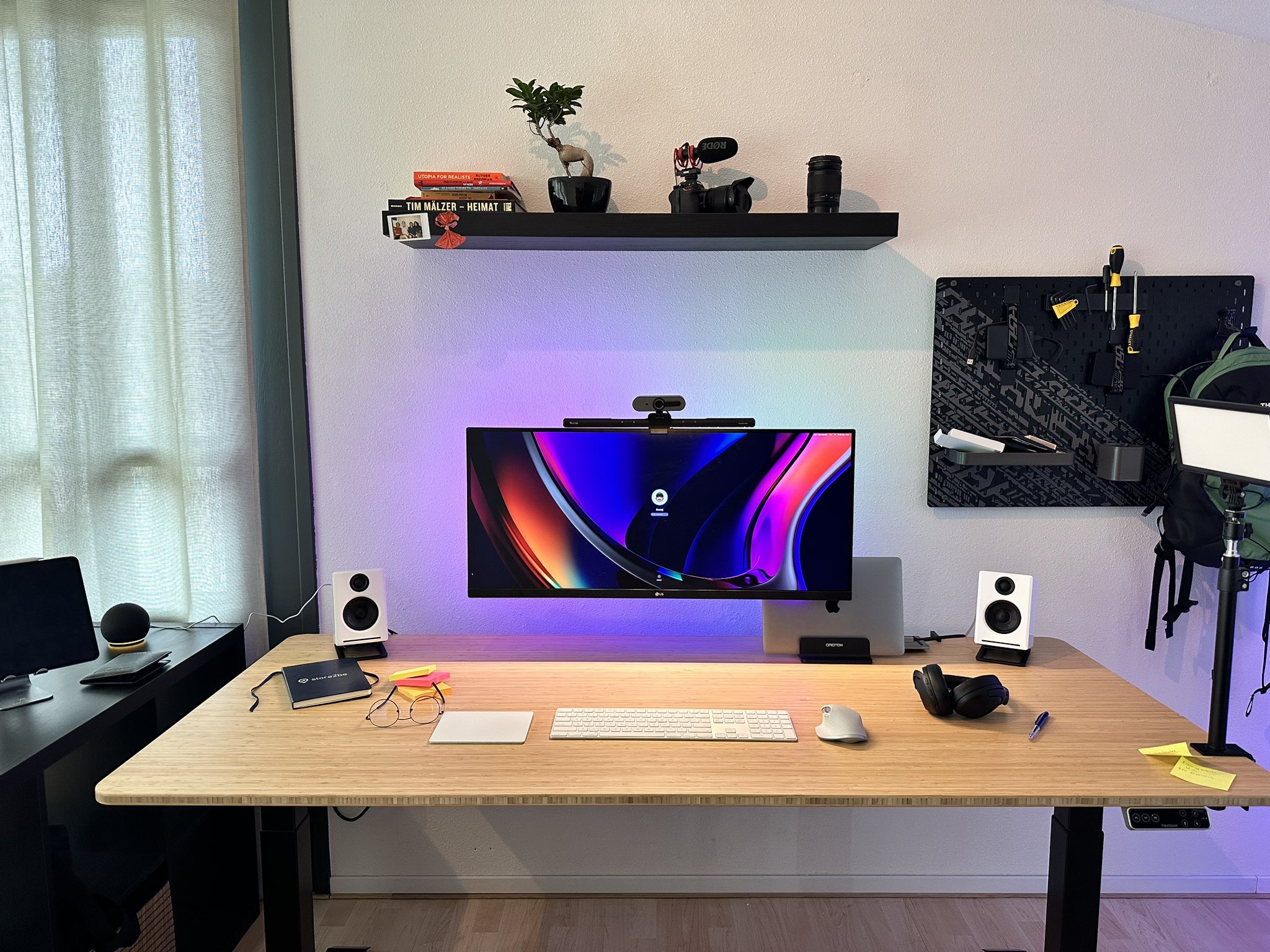 Fancy desk setups are my guilty pleasure. Added a speaker to my desk. I love it so far.
The quality difference is obvious, and I spent a lot of time listening to stuff without headphones. (Source)
Minimalist setups
Noah Kagan of AppSumo and noahkagan.com:

I love a clean desk, it makes my mind feel fresh. 🧼
Things on my desk:
My team feedback - helps me remember areas to improve
Daily 3x5 - key things I want to get done today
Picture of my girlfriend 💕
My upcoming book - one of my top 3 priorities (AppSumo, Book, YouTube)
Water - stay hydrated
Apple remote for television (behind desk)
Sahil Lavingia of Gumroad:

I mostly work from my phone, mostly while walking around.
Amogh Sarda of eesel:
We just moved to a new place (bought my first house!) and so it's very bare bones, and I haven't had time to buy a proper desk (or maybe I secretly don't want to haha).
It's simple, and kind of does the job. I do have a wireless ergonomic keyboard and a Nexstand to make things ergonomic, but I'm guilty of sticking with the ol' Mac on its own. I just love how quickly I can get going. Oh and, the Zoom background's kind of nice!
Angus Cheung of Bank Statement Converter:
I have a standing desk that is in standing configuration about once a year. I run a 2019 Macbook Pro plugged into a 2K (I think) Dell monitor and some speakers.
I also use a full-sized Leopold mechanical keyboard. I love these Leopold keyboards, I've bought about five of them. Sometimes my desk has a notebook.
I used to drink 24 cans of Coke Zero a day while coding. This proved to be incredibly unhealthy and led to me sleeping late and waking up late. In the last few months I have quit and switched to soda water. It's not really the same, but it's worth it to sleep at a consistent time.
As for the bananas, I've been gaining weight recently and need to replace candy with bananas.
Zach Lankton: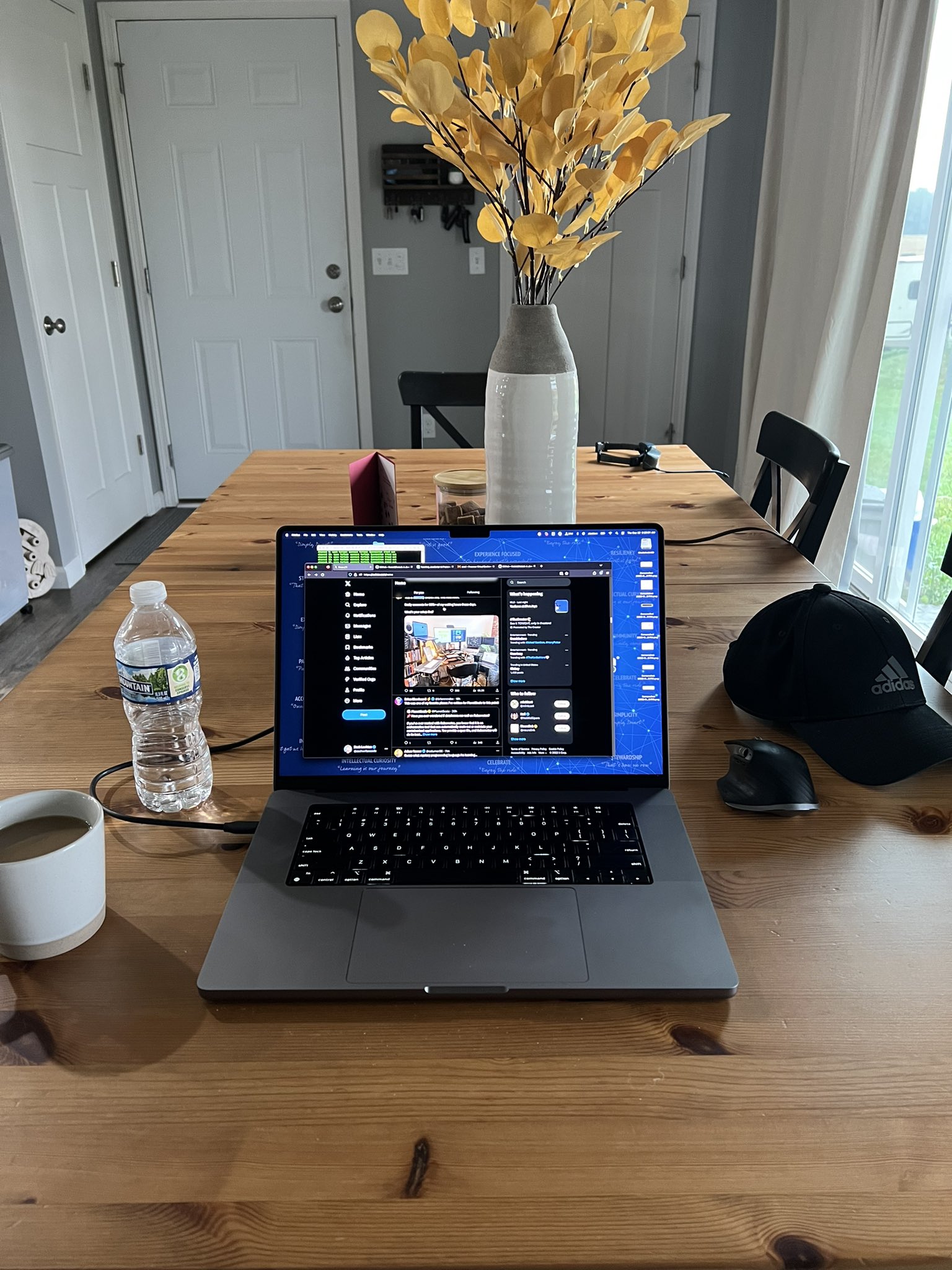 Simply. Minimal. Source
Nomad setups
Pietr Levels of Photo AI:
My setup. (Source)
(And check out here, here, and here for some more creative workspaces by Levels. 😂)
Tony Dinh of Typing Mind:
I have a proper workspace setup at home with a keyboard, monitor, and stuff. But I travel a lot, so I never really got much time to use them. 😂
Sometimes I work from coffee shops and co-working spaces. Here's my workspace today:
Marc Louvion of ShipFast:

0 tools, 1 cafe latte, 1,000,000 lines of code.
Raz Puiu of Mastermind Together: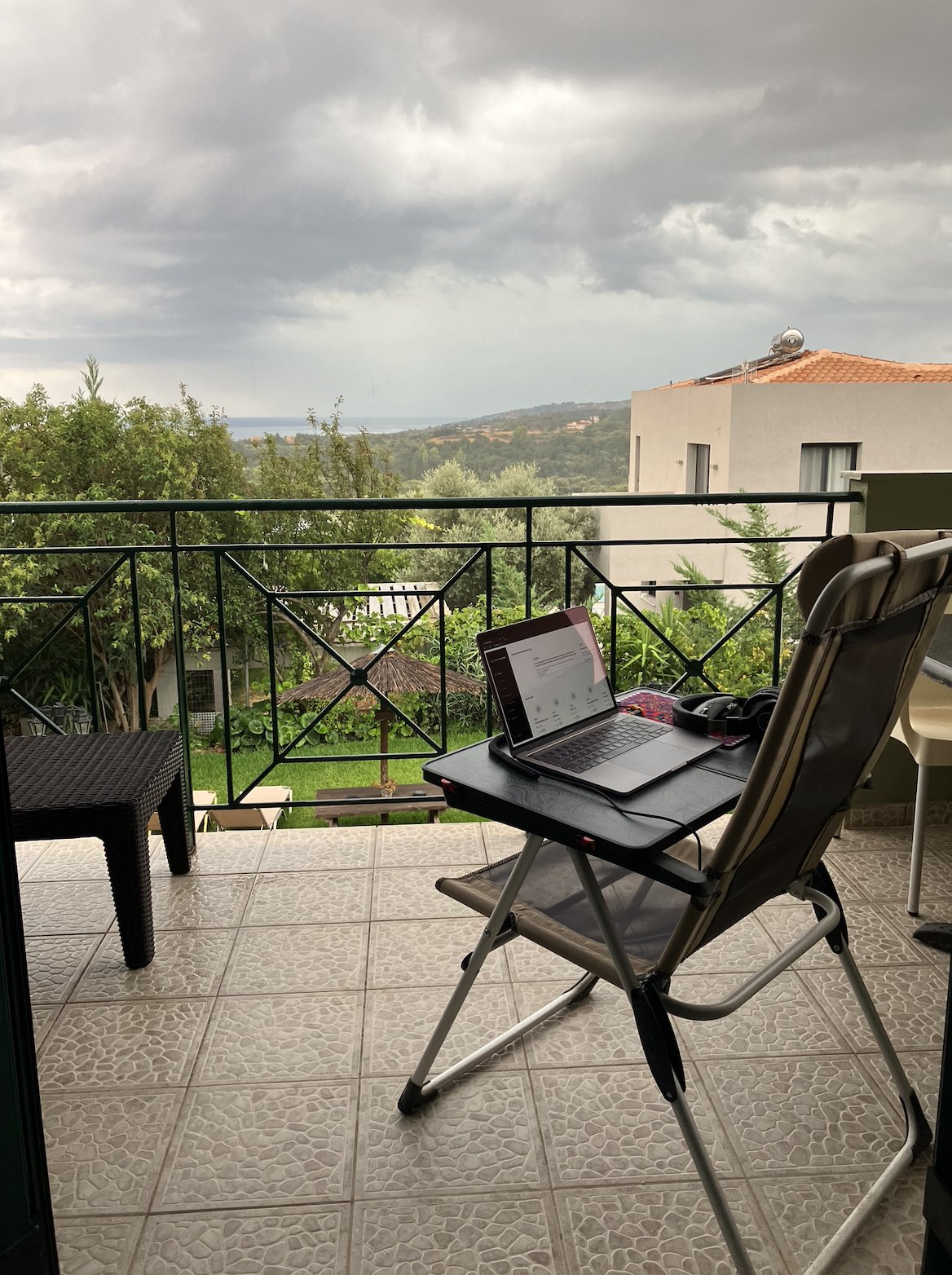 My setup while traveling 😊 (Source)
Mac Martine of The Saas Bootstrapper:
We are living abroad and traveling a lot, so my setup is intentionally as minimal as possible. I usually use the laptop stand to make it somewhat ergonomic.
Here's a shot from Denia, Spain a few weeks ago, outside on the patio where we were staying, and another from this morning in our current apartment in Valencia, Spain.
---
For more, check out the replies on @channingallen's tweet!
Subscribe for more how-tos, roundtables, and interviews with people in the thick of it.