In the last few months, I've achieved great progress in sprucing up the T.LY blog! Through thoughtful and impactful posts, SEO tactics, and answering Google's related questions, I have seen some tremendous success that's worth celebrating - here are my main takeaways so far.
Moved from Subdomain to /blog
When I started T.LY, I took the easy route, created a WordPress blog, and used blog.t.ly as the domain. This was easy to set up and worked great. I even researched whether Google cares about subdomain vs. subdirectory, and it seemed it didn't matter. Check out this video from Google: https://www.youtube.com/watch?v=uJGDyAN9g-g
Regarding SEO, some experts suggest that subdomains can't benefit from the link authority your root domain has already earned. Similarly, backlinks generated for a specific subdomain aren't likely to be passed on to other web pages or sections within the same website. Knowing this can help you make informed decisions about how and where to build links for maximum benefit! I still do not know which is better, but having a unified experience for those reading my blog and using my app was a win-win.
Custom Blog
I decided to move the blog to /blog but didn't want a complicated setup that interfered with my app. The setup I went with is to use WordPress as a CMS with a custom blog front end that uses the WordPress API for post content. This allows me to cache all the posts and render them in HTML, which is excellent for SEO and speed. I can customize the look and feel of the blog without worrying about breaking WordPress.

Over 50 New Blog Posts
Over the past five months, I've added over 50 blog posts on related content around URL Shortener, marketing tools, social media, and more. Mostly, I've come up with the topics myself, but I've also used Google's "People also ask." section to come up with new topics. My goal is to answer these questions and increase my site ranking.


Google Featured Snippets
My goal in answering URL Shortener-related content was to be picked up by Google's Feature Snippets. So far, I've had great results from these posts and highly recommend you apply similar concepts with your content.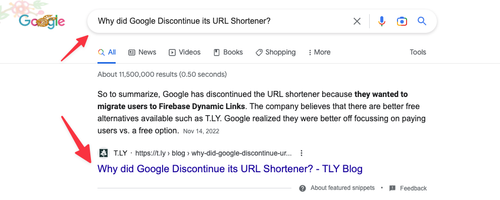 Added a Sections Sidebar
I recently added a Sections sidebar from a tip Justin Jackson shared on their blog for Transistor.fm. The goal is to improve the overall readability and navigation of the blog, which should help readers find the answer they are looking for. At the end of the day, Google cares about answering people's searches. The site that does this best will improve its search results.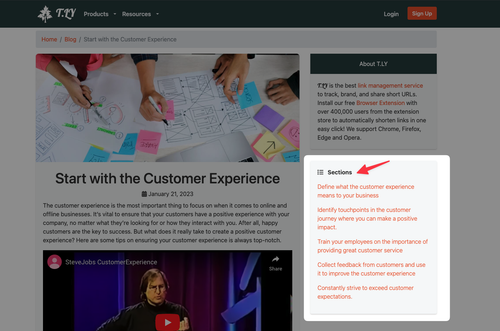 What tips do you have about SaaS blogs and improving search engine results? Feel free to share any thoughts on improving my blog.